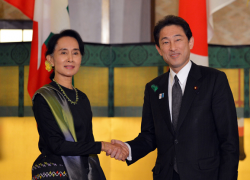 Japan's foreign minister, Fumio Kishida, met up with his Burmese equivalent, Wunna Maung Lwin, along with President Thein Sein and opposition leader Aung San Suu Kyi during the course of two days of political and economical conversations last week.
Kishida arrived in Rangoon on Sunday afternoon and restated Japan's support for democratic changes, as economic aid and investments endure to be bolstered.
As reported by a Kyodo-based news service, the Japanese delegation announced a new 8 billion yen (78.5 million dollars) offer for medical hardware and health-worker education.
Japan is the premier international aid giver to Burma, having pledged 1.5 billion dollars in the period since Prime Minister Shinzo Abe took office at the end of 2012. That support has been paired with strong business funding.
Japanese companies start looking to go into the bourgeoning Burmese production industry, more and more concentrating on on Special Economic Zones (SEZ) on Burma's coast to the south of Rangoon.
Japan has become a strong component in the progress of these Special Economic Zones throughout Burma, especially with the Japan International Cooperation Association counselling the Burmese administration as they voted for these deregulated zones.
Last month Japanese car companies Suzuki, Toyota, and Mitsubishi all pledged to engage in Thilawa Special Economic Zone, near Rangoon, persuaded by the comfortable financial investment policies which will characterise the business site.
The Special Economic Zones that are under construction in Dawei in Tenasserim Division and Kyaukpyu in Arakan State have also stirred controversy with local and international rights groups repeatedly reiterating concerns as to the potential for workplace exploitation.
Japanese financial investment in Burma accredited for more than 300 million dollars in December 2013, rendering it the 10th largest investor in Burma. China continues to be the largest investor, having put in more than 14 billion dollars since the year 1989.