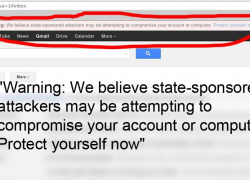 Google recently sent out additional warnings to users warning that state-sponsored hackers have been trying to break into the Gmail accounts of various journalists, particularly those covering news regarding China, including the Kyaukpyu-Kunming Oil Pipeline.
This alert comes in the form of a pink message at the top of users' Google Inbox. The message reads, "Warning: We believe that state-sponsored hackers may be attempting to compromise your account or computer."
Editors and reporters covering the Kyaukpyu-Kunming Oil Pipelines and other issues in China have received this warning from Google. This includes reporters and editors working for Eleven Media Group (EMG) and Irrawaddy News.
This is not the first time that editors and reporters covering China have experienced this kind of warning. In 2012 and again early last year, state-sponsored hackers attempted to gain access to their accounts. The alert in 2013 also included journalists such as Saw Yan Naing from Irrawaddy News, Myat Thura from Kyodo News, Aye Aye Win from AP and Swedish journalist Bertil Lintner, who is an expert on issues relating to Burma.
The alert from June 2012 started going to American experts on foreign policy, political activists and journalist. However, the alert quickly grew and included journalists in Burma starting in late 2012 and early 2013.
Google began sending warnings to journalists in Burma after the Facebook page belonging to the Voice Weekly and EMG website were hacked in 2013.