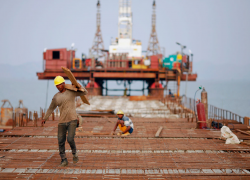 Kyaukpyu Township is ready to receive oil from the Middle East. Ships will bring the crude oil to Madae Island, where it will then be sent to China through the newly created pipeline. A Rakhine State Minister recently made the announcement.
From January 2015, the Kyaukpyu Deep Sea Port will see 100,000-ton oil tankers moor at the port, according to U Kyaw Khin, the Minister for Forestry and Mining. The China National Petroleum Corporation oil tanks will be used to store the chemical.
While China requires the oil, the Myanmar government needs the finances that will come from the storage of oil and use of the new pipeline. The oil tankers are expected at least three times each month from January.
Some of the locals are worried about the storage. They worry that there will be oil spills and it will cause damage to the environment.
While the government benefits, local Madae Island resident U Tun Kyi spoke out for the local fishermen. So far, local authorities have refused to respond to the concerns.
While U Maung Maung Ohn, Rakhine State Chief Minister and Minister for Energy met with local people in the area on December 21, he refused to discuss pollution and accident possibilities.
The pipeline that runs parallel to a natural gas pipeline will deliver the crude oil to China from the CNPC Company tanks. The gas pipeline already delivers gas from Rakhine's coast at the Shwe block.
U Aung Mya, Lower House MP for Sittwe Township, has confirmed that there is an arrangement in place by the government should any oil spills occur.
According to reports, China will receive a maximum of 450,000 barrels of oil each year. A tenth of the amount received can be used by Myanmar, according to U Aung Htoo, Deputy Minister for Energy on December 21.
Gas activists in Shwe reported in 2013 that the pipelines will bring in US$54 billion over 30 years for the government of Myanmar.