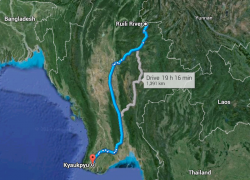 A study of the Kyuakpyu-Ruile Corridor project linking Burma and China is now complete, so construction will begin soon, delegates to the Myanmar Construction Summit were told on Wednesday (March 12).
"This summit is begin held to attract foreign investors to the transportation sector, including ASEAN and Asian highway systems. This also includes 'friendship roads' and bridge projects with Thailand and Laos," Kyaw Kaung Cho, executive engineer for public works under the construction ministry, told the summit.
The event revealed seven major local highway projects that will be implemented to connect international highway systems: Shwebo-Myitkyina, Mawlamyine-Yay-Dawei-Myeik-Kawthoung, Meiktila-Taungyi-Kengtung-Tachilek, Monywa-Pale-Gantgaw-Kalay, Yargyi-Kalaywa, Mandalay-Thabeikkyin-Bhamo-Myitkina and Minbu-Ann-Sittwe.
"Besides the Kyaukpyu-Ruili Corridor, Myanmar and China have other bilateral agreements for more construction. We expect that the corridor project will be implemented soon," said Thet Zaw Win, executive engineer for the construction ministry.
Moreover, the 122-kilometre long Kaladan Multi-Model Transport Project, which will link Burma and India, will be implemented once a feasibility study is completed. In addition to these projects, implementation of the GMS Economic Corridors was also discussed during the summit.
To implement these road projects, at least 28 local companies have been permitted to build about 3,399 miles of road length under the Build-Operate-Transfer system.
"The ASEAN highway system and local highways have been connected already. However, some parts of the roads need to be upgraded to meet international norms. Previously, we discussed an Italian-Thai development for the projects, but that has already been dismissed," an official from the construction ministry said.
For instance, he said, connecting ASEAN highways means that tunnels will have to be constructed through mountains on the Burma side, such as Pontaung-Ponnya Mountain for Tamu-Monywa and Taungyi-Kengtung roads.
"For those tunnel constructions, we need foreign assistance and investment," the official said. The ASEAN highway system is divided into seven sections. For the implementation of section AH1, the construction will begin during the next fiscal year (2014-15). It will cost US$ 146.08 million for road construction and US$ 18.15 million for bridge construction. Similarly, a total of US$ 166.1 million will be required for section AH2, US$ 42.70 million for section AH3, US$ 75.67 million for section AH111 and US$ 199.03 million for section AH112, for which implementation is expected during 2014-16.
Section AH123 is the highway that will link Taninthayi Region to Phunmron Valley in Thailand. It will be constructed by the developer for the Dawei Special Economic Zone.