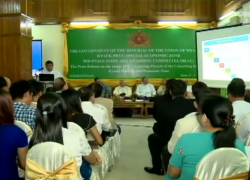 Singapore-based syndicate Creative Professional Group (CPG) has landed a hotly-contested bid to operate as advisor for the Kyaukpyu Special Economic Zone, it was declared in Yangon on March 3.
CPG earned the tender from the Singapore subdivision of Netherlands-based KPBG, that was considered as backup advisor, the combined secretaire of the Kyaukphyu SEZ bidding assessment and granting commission, U Aung Kyaw, stated a press conference.
CPG was one of 17 service providers which tendered for the consulting out of 31 that indicated curiosity in the challenge, the news summit was informed.
Tender examination and granting commission secretaire U Myint Thein explained the price of setting up the unique commercial area had been projected at $227 million, and global marketing proceedings granted the advisor to obtain a rate of 5 percent.
CPG is going to supply consulting services relating to land challenges, deep sea harbour design, financing and project services and the calling of bids for the maker of the SEZ.
The SEZ will be formed in only 4 steps, with the initial, a conceptual strategy, having been completed with material from economists, entrepreneurs and Kyaukpyu citizens.
The next step was choosing a project adviser and the 3rd will consist of calling bids for a project developer.
The final step will comprise constructing the SEZ, which will cover approximately 1000 acres.
The president of the offer evaluation and granting commission, Dr Maung Thein, noted the SEZ would experience the advantages of being in close proximity to three large marketplaces: India, China and Burma's associate countries in the Association of Southeast Asian Nations.