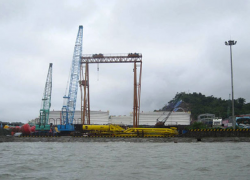 The Kyaukpyu Special Economic Zone (SEZ) project is to be developed by a public company made up of 11 Burmese businessmen.
According to reports, Mya Han, Fortune International Company chairperson, will be acting as chair of the new public company.
About $277 million is going to be spent building the Kyaukpyu SEZ, which is being executed in four phases; three of which have already been completed. The final phase, which is the enactment of the SEZ tasks, will begin when developers are chosen.
Due to international rules and regulations CPG Consulting Company based in Singapore is chosen to be the guide to invite developers that would like to invest in the SEZ.