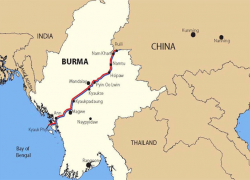 Government officials have revealed that the current administration of Burma intends to refuse a loan from China worth about US$2 billion, which was allotted for the construction of the Burma-China Corridor Project.
In a second joint committee meeting, the governments of China and Burma agreed upon a project that involves the building of a trade route between mainland China and the west coast of Burma. This route which will be known as the Kyaukpyu-Ruili Road will facilitate the flow of goods from Burma to China. For this project China proposed a loan of US$2 billion to Burma.
In fact, the Chinese authorities want to begin the construction of priority routes by this year itself, which involves completion of trade roads such as the Magway to Kyaukpyu road and the Ruili to Lashio road.
However, the refusal of Burma to accept the loan from China is rooted on its previous experiences. According to a source from Burma's Ministry of Construction, the government is making a good decision in refusing a loan that has an interest rate of 4.5% that is much higher than the IMF, the World Bank, and the ADB.
China had prior investments in Burma, particularly in the hydroelectric and mining sectors. In these previous projects, the Chinese preferred either a public-private partnership or a used build-operate-transfer system. However, these previous projects needed amendment of contracts because of certain inequalities. Ironically for this project, the Chinese proposed the same two options.
As of this writing, there is nothing definitive yet about project details since no official word has been released by both China and Burma. It is also not yet clear which of the two countries will benefit more from the Kyaukpyu-Ruili Road project.