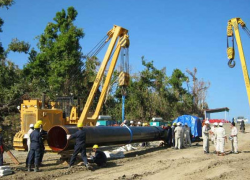 A key processing refinery project in China has been delayed, putting the future of the country's multi-billion dollar investment in Burma's oil terminal and transshipment in uncertainty.
The Chinese industry report said street protests against the controversial Yunnan Province refinery are the cause of the delay. The protests were due to concerns over pollution worries. If it's built, the earliest will be in 2016.
The complex, which would have produced 200,000 barrels per day, would be owned by the China National Petroleum Corporation. It was anticipated operations could start at some point this year. However due to overcapacity concerns and a slowdown in the country's economy, it's one of several new oil processing projects being tabled.
About half to the 22 million tons of crude oil that comes from Africa and the Middle East annually, was anticipated at the Anning refinery. This oil would have been shipped through Kyaukpyu, Arakan State. This refinery would have generated diesel and gas, and fed the nearby petrochemicals plant.
While the project is on hold, the 900-kilometer oil pipeline in Burma is still being constructed. It'll have a 440,000 transmission capacity. However, its construction is being done amidst debate over land grabbing and safety accusations.
Reuters said, in 2013, the country's consumption of both diesel and gas rose at its slowest annual pace in 20 years. It went on to say that despite the cooling fuel market, refinery construction continued, which left a capacity glut that damaged processing margins and led to a quick increase in fuel exports.
A Bloomberg news agency carried out a recent survey that concluded that China's petrol and diesel exports grow is going to have a negative effect on the regions refining margins in 2014. It anticipated that there would be a falling of nearly 11 percent for refining profits for regions outside China. In 2013, Singapore saw a drop of nearly 16 percent for its refining profit margin.
According to a China Petroleum and Chemical Industry Foundation study, if there were no cutbacks, the country's refinery construction and plant expansions could lead to an excess of 140 million tons of both diesel and gasoline by 2015.
While behind schedule on the oil pipeline going through Burma, it's thought that about 75 percent of it is complete. However, it's been wrought with controversy during its construction. One such controversy is that landowners were not properly compensated and the local people were forced out.
Its sister natural gas pipeline is currently in operation, transporting fuel to the Bay of Bengal from the Shwe offshore field. However, recent allegations from the Burmese Parliament have surfaced over safety problems such as cracks in the gas pipeline.
At the Kyaukpyu transshipment terminal, the CNPC is in the process of building oil storage tanks: 12 tanks that can hold up to 100,000 cubic meters or up to 7.5 million barrels. This equates to 17 days of pipeline operation at full volume.
The key reason the Kunming refinery was being built was to address the regular oil fuel shortages in the remote province. The oil terminal is at the center of an anticipated special economic zone for the area.
The CNPC and other Chinese state national oil companies have plans to construct other pipelines that connect Yunnan to China. It's not known if the infrastructure can deal with the influx of oil that comes through Kyaukpyu.