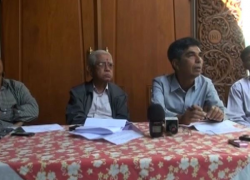 Delegates from a variety of Arakanese organisations have declared they will carry out the 4th Arakan National Conference in Kyaukpyu during 27 April to 1 May as they aim to find responses to the continuing turmoil in the area.
Debating at a press meeting at the end of the convention in Chiang Mai on Monday, Thar Ban, the president of the Arakan League for Democracy (ALD), stated that the coming summit meeting would focus on 3 targets.
"We will complete the discussions from our past talks about three goals: to improve solidarity amidst the Arakanese men and women; to deliver ethnic parity and justice; and develop a safe, serene and modern Arakanese society", announced Thar Ban.
The head of the Rakhine Nationalities Development Party (RNDP), Oo Hla Saw, suggested: "Our individuals are encountering difficulties like no second region in the land, and we won't be in a position to answer these difficulties by means of one party or an particular individual."
Oo Hla Saw continued: "That's the reason why we have made the decision to hold a gathering, jointly with resistance groupings, democratic parties, historians, and intellectuals. By doing so, we will work out a plan of action."
He pointed out the continuous common physical violence between Arakanese Buddhists and the Muslim Rohingya group would not stop the meeting from moving forward, and neither would likely the latest disturbance where 2 Arakanese political leaders (RNDP's Aye Maung and ALD's Aye Thar Aung) were the target in an unsuccessful murder attempt in Malaysia a week ago.
A task force has been established to prepare the fourth Arakanese National Conference and is planned to meet in the foreseeable future with a Burmese federal government delegation. It will consist of: RNDP President and Rangoon Division Arakanese Affairs Minister Zaw Aye Maung; ALD Chairman Thar Ban; Arakan Army's Kyaw Han, and Arakan Liberation Party Secretary Khine Thukha.