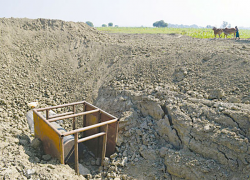 The Kyaukpyu-Yunnan pipeline running from Burma into China does not meet international standards and shows signs of cracking in some places, an MP told a Union assembly.

MP Tun Aung Kyaw of Ponnagyun issued an analysis noting that the pipeline should be buried a minimum of 15 feet deep and have outer walls at least 3 inches thick. Locals have told the MP, however, that the pipeline is buried at a depth of about 5 to 6 feet, and the pipe itself is only 1.5 inches thick. Engineers conducted a test of the line using water instead of petroleum products last May and found that the pipeline had cracks from pressure causing water to shoot out in several broken areas, the MP said.
In four locations from Kyat Yae San to Padun Road, there was serious damage to the surrounding area from the test. In numerous areas, small trees were damaged by the spray's intensity. Roads had to be blocked and the ground cracked because of the depth, the method of joining and the soil placement that does not meet international standards.
The MP expressed concerns about whether the government has made arrangements for protection of residents as well as farmland, forests and village buildings located along the pipeline's route.
Deputy Minister of Energy Aung Htoo said that only a few small trees and bits of grass were swayed by the water pressure from the pipeline trial.
The energy minister gave assurances that if the pipeline was damaged in any way, arrangements were in place to take note of leakage. The government has arranged for the equipment that will be needed during a disaster and for emergency response team training. Also, money is being saved for emergencies and arrangements are being made to contact local hospitals if an urgent situation develops, the minister said.