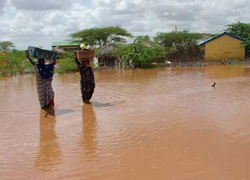 Recent heavy rain and extreme weather conditions during this years monsoon season are having a significant impact on agriculture says U Aung Ko Lat, deputy planning officer from the Department of Agricultural Planning.
The heavy rainfalls in the region made international headlines recently with extensive flooding in Thailand's north, highlighting the changing weather patterns.
According to the Department of Meteorology and Hydrology, rainfall on Ramree Island was 80-100 inches between July 1 to August 31; heavier than normal and effected many areas of Burma, especially in Magwe Region.
In Yangon last week, U Aung Ko Lat said "About 97,000 acres of crops were destroyed by flooding this year." Organised by the United Nations Food and Agricultural Organisation and European Commission, the Seventh Monsoon Forum convened to make effective use of available climate information to forecast climate risk for food security.