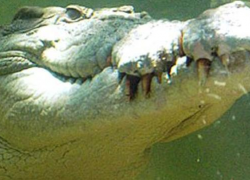 In the latest edition of the Guinness Book of World Records, Ramree Islands holds-on to the regrettable record of most deaths due to crocodile attacks:
February 1945 – A Japanese unit outflanked by a British naval force off the Burmese island of Ramree were forced to cross 16km of croc-infested swamp. Of the 1000 troops who went in, 20 came out.
Other crocodile records from the 2011 edition include:
Fastest crocodile: The Australian freshwater crocodile (Crocodylus johnstoni) can travel at up to 17km/h on land.
First known plane crash caused by a crocodile: August 25, 2010 – 20 passengers on a Filair flight in the Congo were killed when a crocodile that had been smuggled aboard escaped. All the passengers ran to the front of the plane to avoid the reptile, causing the aircraft to lose balance and killing all on board.
Highest box office record for an Australian movie: Crocodile Dundee – $US328 million (in 2010 dollars)
Largest crocodile ever: Sarcosuchus imperator – a prehistoric species that lived 210 million years ago – grew up to 12m and weighed up to eight tonnes.