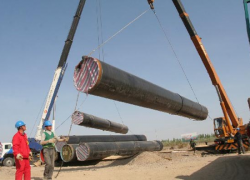 Burma has officially commenced construction of the main gas pipeline connecting the natural deep sea port of Kyaukpyu, Ramree Island, to China's southern city Kunming, in China's Yunnan province. Although much construction has already been made at Kyaukpyu port, the official commencement on August 1st 2011 of the pipeline is seen as a major advancement in the project.
The total length of the pipelines are expected to be in excess of 1,500 kilometers for the oil pipeline and 1,700 kilometers for the gas pipeline, with around 800 kilometers of that across Burma. A railroad running adjacent to the pipelines has also been planned, but not word yet when work on that will commence.
With the pipelines expected to be running in June 2013, both China and Burma have an ambitious plans for the project which, if all goes as planned, will radically change the route for Middle Eastern oil into China and for Burma, a new customers for its vast reserves of natural gas.