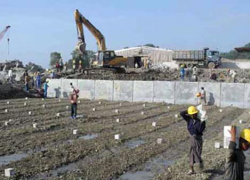 In Gonechein village, 5 miles from Kyaukpyu Town, villagers are planning to reclaim cooperative society-owned land that was sold to the Daewoo Company by Maung Oo, the controversial former Home Minister and commander of the state.
It is reported that while serving as the commander of Arakan state, Maung Oo appropriated the land without the villagers' consent and transferred the land title to his wife, Daw Nyaunt Nyaunt Oo. The land was then swiftly sold to the Daewoo Company in 2010 at a price of 45 million Kyat (6.9 million USD).
With the help of lawyers, politicians and educated youth, local villagers are saying they will try to prosecute Maung Oo for the sale of cooperative society-owned land which they claim is necessary to form an agricultural producers cooperative society in the village, a new poverty alleviation program initiated by the current Burmese government.
According to local sources, this is not an isolated case; Maung Oo also has acres of land that was appropriated from the villagers of Minpyin Village, again in Kyaukpyu. Other former regional commanders of Arakan State, Win Myint and Thiha Thura Maung Ni, also have lands that were appropriated in Minpyin Village and registered under their wives' names.
The disputed lands have reportedly been fenced-off and guarded by the Infantry Battalion 34, the regional commander's soldiers stationed in Kyaukpyu, Ramree Island.