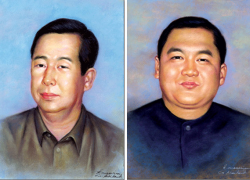 Tay Za, owner of Htoo Company, and Tun Myint Naing (aka Steven Law), managing director of Asia World Co, are two of Burma's wealthiest businessmen and are both involved in the construction of the deep sea port and facilities in and around Kyaukpyu, Ramree Island.
Htoo Company was setup in the early 1990's and is reported to have been taking care of pipeline transportation for the deep sea port at Kyaukpyu, while Asia World, also founded in the early 1990's and is Burma's biggest firm, has government contracts for the construction of the port, which is primarily being built to serve China's shipping and energy needs.
Both businessmen are known to have close ties to Burma's top leaders and and both were faced with US sanctions in 2007/2008. Despite the sanctions, Tay Za and Steven Law's businesses and personal wealth are still thriving in Burma's struggling economy.
The substantial Chinese investment in Burma combined with Chinese heritage of some of Burma's leading businessmen has raised concern among local residents and reports that anti-Chinese sentiment is high among many Burmese. The extent of China's involvement in Burma, the growing number of Chinese personel working within the country and speculation of Chinese military and naval bases just add to these fears.