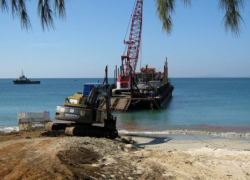 At a conference in Bangkok on Wednesday, the Italian-Thai Development Public Company outlined their plans for a mega deep-sea and industrial estate near the fishing town of Dawei (formally Tavoy), southern Burma. The 10-year, $8 billion plan comes 3 years after the Burmese and Thai governments signed an agreement to jointly develop a port project at Dawei in Burma's Tenasserim region.
The current plan will see a 250 square kilometre (100 square mile) site compromising of a deep-sea port & facilities, oil refinery, steel mill, fertilisation plant and a coal-fired power station.
The main beneficiary of the port at Dawei looks to be Thailand, with rail and road links running alongside oil and gas pipelines to Thailand's capital, Bangkok. The road link is almost complete and the initial phase, including one of three planned docks, is set to be operational within five years.
The Thailand-Burma mega port project at Dawei is comparable to the current China-Burma plans for developing an economic and technological zone at KyaukPyu, on Ramree Island. The main goals of both projects is a new route into Southeast Asia for energy supplies coming from the Middle East and Africa. The Dawei project will also benefit Thai exporters who currently ship from the Gulf of Thailand, around Singapore and through the Malacca Straits before heading west.
The enormous social and environmental impacts of the project have yet to be fully assessed. There are reports that an estimated of 23,000 people will have to be displaced from the area which is known for it's natural beauty, tropical landscape and stunning beaches. The area was one of Britain's first colonial conquests in Burma in the 19th Century and Maungmagan Beach, which lies just 12 kilometers north-west of Dawei, is still one of Burma's finest and a popular destination for both local residence and tourists.