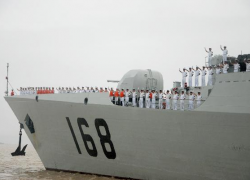 Burmese leader General Than Shwe is visiting China on Thursday for his first official visit as Burma's new president. The trip will include three days in Beijing where in-depth discussion on China's navy docking in Burmese ports and their desire to provide naval protection for oil and gas facilities at the port of Kyaukpyu, Ramree Island.
China are looking for permission to dock their warships while on counter-piracy missions in the Indian Ocean, and also to protect the strategic port of Kyaukpyu, Ramree Island, a multi-billion dollar project that is being financed by Beijing.
Kyaukpyu port is the starting point for two pipelines which stretch across Burma for about 1,100km before entering China. After the pipelines are finished in 2013, they are expected to transfer more than 80 percent of China's imported oil from the Middle East and Africa, as well as natural gas from Burma.
Work is already underway upgrading the airport on Ramree Island. Reports from local residents of the island said that they have seen not only Chinese workers, but also Chinese military personnel in recent years.