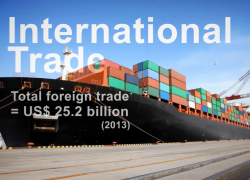 Promotional video from the Kyaukpyu SEZ roadshow which visited China and Singapore in 2014. Investors are currently being sought to develop the special economic zone (SEZ) which includes a natural deep sea port, industrial zone, gas and oil pipelines.
The proposed site for the industrial park will be located south of the Kyaukpyu town, north-east of the proposed residential area and west of the deep sea port. The residential area will be close to the north-western shore of Ramree Island with a beach to the south.
The benefits of the Kyaukpyu SEZ include:
Location; close to the nine major cargo-generating provinces which generates more than 80% of total Myanmar market and it's proximity to two large regional destination markets comprising North East and Southeast Asian markets.
Natural deep sea harbour (>17m) which is capable of accommodating mega-sized container and bulk carriers.
Challenges include:
Road linkages between Kyaukpyu and Myanmar are still being developed.