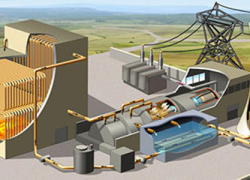 The lowest bid to build a gas-powered generating station at the Kyaukpyu SEZ has been placed by Hong Kong company, but officials say there is no guarantee that the company will win the contract.
Four private firms places bids for the electricity generation project at the Kyaukpyu SEZ in Myanmar's Rakhine State, also known as Arakan State, Burma. The lowest price per kilowatt hour has been proposed by V Power from Hong Kong, according to chief engineer U Win Myint of the Myanmar Electric Power Enterprise.
The plan is to build a plant that will use about 20 million cubic feet of natural gas each day to produce 50 megawatts of electricity.
Currently, the Ministry of Electric Power pays the equivalent of about 3.4 cents per kilowatt hour for electricity generation at similar natural gas stations. The V Power proposal is to generate the power at only 2.6 cents, he said.
The lower tariff is no guarantee of an automatic win, he said. Singapore-based Max Power, UK company Aggreko and China's Sinohydro have also turned in bids.
No company has been selected yet because many factors must be considered, including the type of generators that will be used and amount of fuel they will consume. The entire project needs careful review before a decision is made, he said.
The ministry is considering three ways of implementing the project, including different capacities in different seasons. Each bidder has submitted proposals and rates that depend on how the project is ultimately implemented. But some ways of implementation are overall more feasible than others, U Win Myint said.