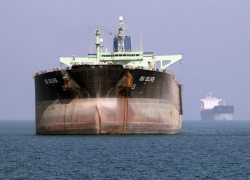 A committee of the Kyaukpyu Special Economic Zone has released its report on the development of the Kyaukpyu deep-sea port.  In the report, the committee states that twelve locations have been identified as appropriate sites for the port, expected to be the top deep-sea port in Southeast Asia.
Members of Economy Zone Tender Invitation and Scrutiny Committee (BEAC) met with the consulting company to discuss project development at the end of March.  The port, planned to be the heart of trade between East and West, is to be 200 metres deep and the site has a natural protection from wind and tide.
Than Maung, a representative of Economy Zone Tender Invitation and Scrutiny Committee and Pyithu Hluttaw, commissioner of Legal Affairs and the Review of Special Cases Committee indicated that they had identified 12 excellent locations for zoning the project.  They explained that the port will be situated right in the heart of trading and will offer easy access.  After the project is completed, traders will no longer need to use the Malacca Strait, the present main shipping lane.
Consultants with the Kyaukpyu Special Economic Zone will draw up a blueprint for the site along with the entire region.
"Since March 26, the consultants and the BEAC members paid a five-day visit to Kyaukpyu. In addition, we need to draw the master plan for Yanbyae and Manaung islands for the overall development," said Ba Shwe, a representative of BEAC.
The committee will contract with CPG, a consultant company headquartered in Singapore, to make recommendations in choosing contractor.  The contract has been submitted to the Office of the Attorney-General for approval before executing the transaction.
Than Maung told reporters that the Kyaukpyu Special Economic Zone is not among the proposals planned by China for transporting petroleum.  The government of Myanmar oversees this area with the aide of international developers.