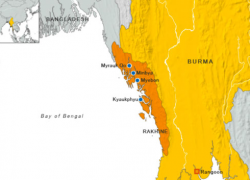 Kyaukpyu Town will be the site of the Rakhine National Conference for five days from April 27 to May 1, according to an official source.
Research papers will be read and discussed at the conference about issues including setting up a national day, according to organising committee member Zaw Aye Maung, who is also Rakhine affairs minister for Yangon Region.
Representatives of people in exile and blacklisted groups will participate in the conference, according to committee members. Specifically, an agreement has been reached with Union Peace Making Committee for its reps to participate in the conference.
Funding will come mostly from money donate by Arakan citizens, according to another committee member.
Six research papers are expected to be presented, and they will involve issues that include equality, ethnic unity, the peaceful survival of the Arakan state, the economy, national unity, healthcare and education.
A working committee is expect to be created that will be responsible for implementing the decisions made during the event.
Similar ethnic conferences include Chin National Conference and Mon National Conference have already been held in hopes of gathering information to take to a large national conference at a yet-to-be-set date in Pinlon.