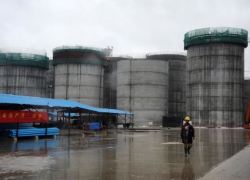 Chinese investors were urged by Burmese officials to make an investment in the Kyaukpyu Special Economic Zone (SEZ) during talks between the two countries. The discussions happened Saturday as part of a bilateral trade meeting.
The Kyaukpyu SEZ is located on Burma's western coast and is one of three SEZ's in the nation. At the Thilawa SEZ and Dawei SEZ, investors from Japan and Thailand have taken the lead.
Aung Naing Oo, Director General of the Directorate of Investment and Company Administration (DICA) spoke during the trade meeting to encourage the investment. The zone includes a deep-sea port and a gas and oil pipeline to Kunming and there will soon be a railroad, he reminded them in his speech. He urged Chinese investors to take investing in the project "into serious account".
At the meeting held in Ruili, a Chinese border town, Aung Naing Oo also pointed out that China is the largest trading partner with Burma and the biggest investor in the nation, making it Burma's most important partner.
But the timing is perfect for additional investment, the official said, because Burma needs infrastructure improvements and is welcoming of foreign investments.
Some projects have met with challenges, however. The Shwe Gas Project – aimed at exporting natural gas to China, is facing challenges related to land disputes and squabbles over how much land owners who have had their land confiscated should be paid.
Myint Wai, the general manager of Burma's rail transport ministry, said that the government will discuss the Kyaukpyu-Kunming Railroad Project with local people and with parliament before moving forward with the project that is important to the SEZ. That could help limit protests and other issues.