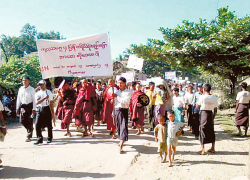 Locals from Ramree Township, Arakan State, protested in the streets against a United Nations human rights committee resolution that calls for Burma to grant Bengalis citizenship and call them Rohingya.
The protesters in Ramree got permission from the local police before holding the demonstration. The protestors said that the United Nations was unilaterally calling on the Burmese government to accept a race that never in existed in the nation. The call threatens the nation's sovereignty, the protestors argued.
According to Tubn Kyi, one of the protestors, the group marched while holding placards with three demands: that the UN respect the sovereignty of the nation, that the Rohingya not be given any existence or recognition in the nation and that the 1982 Citizenship Law be enforced. About 900 people participated, he said, including Buddhist monks. The group of protesters marched around the town.
The demonstration in Ramree resulted because the UN's pressure on the government created an impossible situation, the protest leader said. If the Bengalis are given the standing, he said it is "sowing discord" in the nation. The protest was staged because "we could not accept that".