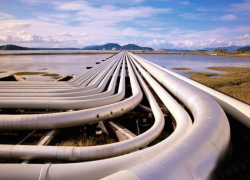 By the end of 2016, more than 58,000 jobs could result from the Kyaukpyu Special Economic Zone (SEZ) project. The first stage should be done by then, according to the SEZ Administration Committee.
The project is expected to develop in three stages. The first stage will develop between 2014 and 2016. The second stage is scheduled to develop from 2017 to 2020. The third stage would not begin development until 2021 and could take until 2025 to complete.
In all, about 145 hectares will be used as harbor, housing and for the zone itself. About 30 percent of the SEZ will be devoted to the textile industry, 50 percent to projects related to fish processing and the rest for other kinds of light industrial uses.
A call for bids was put out at the end of November to choose a consulting company for the project so it can get underway by April.
Envisioned for a specific area near the Sittaw and Simaw villages, the Kyaukpyu SEZ will be close to Kyaukpyu and will be the main economic zone for ASEAN, Chinese and Indian companies that want to develop in the area.
An Arakan state minister who oversees electric power and industry said a few weeks ago that the zone is expected to cost about 90 billion Ks in total.