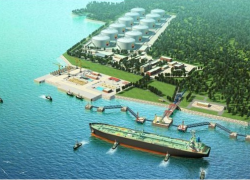 The Kyaukpyu Special Economic Zone (SEZ) has welcomed visitors from companies in China, India, South Korea and Taiwan in recent weeks, but the company representative appear uncertain about whether to invest in the area, according to an Arakan government official.
U Maung San Shwe, minister of national planning and economic development for the state, said companies are considering investing in the region and came to view the state of construction and electricity availability in the area. Without investment from these or other investors, the SEZ cannot succeed. The minister called current levels of funding, human resources and real estate "inadequate".
The government opened bids on September 8th from the international community to develop the Kyaukpyu SEZ. At that time, officials said the 1000-acre site would get started in 2014 with an initial investment of $277 million.
But investors have been delaying investment because of conflicts between Muslims and Buddhists in the state. According to the minister, the regional government will offer assistance to those who want to invest in Kyaukpyu and in the SEZ in the form of security protection and suppression of conflict.
The regional government also has plans to create a committee, according to U Maung San Shwe, at either the regional or the national level aimed at reducing the conflicts as well as preventing illegal migration and making efforts to draw in more regional development.

An MP in the Arakan state's parliament said discussions about how to provide power to the SEZ have been brought to parliament, and plans have been made to extend power lines from Tha Htay Zay and Kyaukpyu to the area before 2015. Some line construction has already been started, and some projects will be powered with natural gas, the MP said.
To prevent further issues from arising down the road, the MP suggested that investors and officials need to consider creating a master plan for the SEZ.