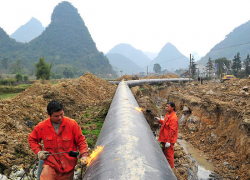 The controversial pipeline that stretches from Ramree Island, western Burma to the southwestern part of China is now completely operational and will carry natural gas to help China meet its growing energy needs. As the second largest economy in the world, China is struggling to acquire access to the resources it needs to sustain and improve its world position.
The pipeline stretches more than 2,500 kilometers. It has been under construction for three years and began limited operations in July of this year. Chinese state media now reports the pipeline is complete and fully operational.
The completion comes at a time when the once-close political ties between Burma and China have weakened. A quasi-civilian government took over in Burma in 2011 and instituted reforms that included eliminating most Western sanctions.
Critics have long condemned the pipeline because they say land was confiscated from local residents. Plus, there are environmental risks, according to some activists. The natural gas carrier runs from the poor Kyaukpyu township and is intended to serve Chinese cities including Guangxi, Chongqing, Guizhou and Yunnan.
The pipeline crosses through Ruili, a Chinese border town where fighting broke out in early 2013 between the rebel Kachin Independence Army and Burma government troops.
The added gas for China is expected to be as much as 12 billion cubic meters per year. That is expected to cut gas prices and reduce coal use in China, where limited on gas consumption by companies will be raised.
The pipeline will help China diversify the sources of its imported energy, according to analysts. Now, gas is mostly brought in from the Malacca Strait through underwater pipelines. The pipeline over land from Burma is also seen as safer than an undersea network of pipelines.