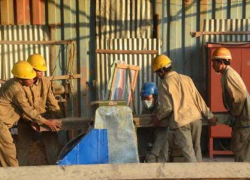 Police in Kyaukpyu, Ramree Island, detained and interrogated 11 Chinese staff members of the Shwe National Gas Project on the 5th September concerning the unexplained death of a Chinese worker on the project.
The workers are being detained for questioning. All of the employees on the project, located on Maday Island of the Kyaukpyu District, are Chinese nationals.
Another worker lived in the same room as the deceased worker and slept in a lower bunk but claims to have no information about the incident, according to a district police official. Blood was found on the dead man's bed, however, calling the roommate's story into question. The roommate claimed he thought the other man simply got out of bed to urinate.
The spokesman did not elaborate on any information gleaned from the other 10 workers.
The man who died is identified only as Mr. Lu and as a staff member of Yunnan Company, a Chinese business. Lu went missing the night of 2nd September. His body was discovered three days later in Maday Island River. Police say the investigation is ongoing, but the officials seem to be focused on the other Chinese workers rather than on locals or other outsiders.