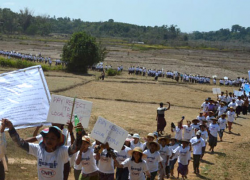 The 10 protestors who led a demonstration asking for development around the Shwe Natural Gas Pipeline were scheduled to have their cases decided by a judge in September.
The protesters are to be judged following testimony and evidence submitted from both sides, according to U Tun Kyi, one of the group of 10 protestors who were arrested.
The pipeline started daily operations on July 15 and officially opened for business on July 28. It is intended to carry 200 million cubic feet of gas each day from Kyaukpyu in the Arakan state to Kunming, China.
More than 500 residents participated in the April 18 protest demanding development programs in the areas along the pipeline. Only 10 were arrested and booked under Section 18. The arrests were made by Ma Day Kyun Police and the cases are at the Kyaukpyu court.
The hearings began on May 6, according to U Tun Kyi. There have been 11 or more hearings already, the accused protestor said.
The protestor said the small group was arrested as a warning to the other protestors to keep them from taking similar actions in the future. U Tun Kyi said the 10 of them who were arrested will accept whatever punishment is handed down and will continue their efforts to demand regional development programs.
Residents want land problems that have resulted from the pipeline settled as well as better transportation to the villages along the pipeline, electricity and additional healthcare facilities, schools and water wells in each of the villages.
Many people have received no compensation for inherited land that was taken from them for the pipeline, according to Ma Snow from Kyaukpyu Natural Gas Pipeline Watch Group. In most cases, this is because they don't have the proper documents.