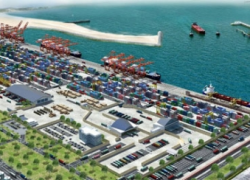 The 120-square-kilometer Kyaukpyu Special Economic Zone threatens as many as 40 villages with pollution and toxic waste and will endanger the health of thousands of people in Arakan, according to a report issued by the Myanmar NGO Arakan Oil Watch in December 2012. In addition, the nation's second largest mangrove forest will be destroyed, among other consequences.
The project will include a deep-sea port and will be the starting point for a Chinese-owned pipeline that will transfer gas and oil to China. Financed by the China Development bank, the project has already involved the confiscation of a large amount of land. The project will cost as much as US$2.4 billion.
Tens of thousands are expected to be uprooted, and that's sure to cause conflict, the report's authors said.
Companies from six or more countries are involved in the 771-kilometer pipeline at the heart of the controversy. The majority shareholder is South-East Asia Crude Oil Pipeline Company, called SEAOP, a Hong Kong-based subsidiary of China National Petroleum.
Daewoo International owns just over 25 percent of the project, ONGSC Caspian E&P owns just over 8 percent. Myanmar Oil and Gas have slightly more than 7 percent ownership stake, Korea Gas Corp. is in for just over 4 percent and the remaining 4 percent or so is held by GAIL India Corp.
The Kyaukpyu Deep-Sea Port is intended to make it possible to easily transport large storage container shipments to China. The ports investors are China's CITIC Group, Japan's Nippon Koei and Burma's Htoo Trading Company.
The report questions the intelligence of giving control of a pristine coastal area to foreign companies that want to turn the area into what one Arakan Oil Watch spokesperson called a "toxic industrial zone".