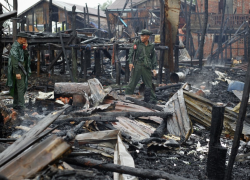 Two Muslim men have been sentenced to death for raping and then murdering a woman. The case led to sectarian clashes that resulted in the deaths of at least 50 people.
The sentence was handed down by the Arakan state's Kyaukpyu District Court. A third man who was also involved and charged hanged himself while in custody.
Reporting about the crime may have been a contributing factor that caused an attack on a bus in the area earlier in the month. In that incident, 10 Muslims aboard died, according to officials. Violence between Muslims and Buddhists has been widespread across northern Arakan. Thousands of homes have been damaged or destroyed, and government officials admit that at least 50 people have lost their lives in this violence.
A state of emergency was declared in the Arakan state by the national government, and the military were activated to help bring about order again. The state is home to the Rohingya ethnic minority who claim persecution under the years of rule by the Burmese military.