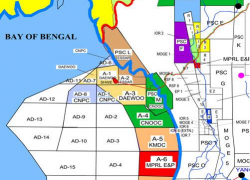 During exploratory drilling in the Shwe gas field near Ramree Island the private company MPRL E&P Pte Ltd. (Myanmar Petroleum Resources Limited) says it has found gas in Block A-6.
MPRL is a private Burmese company and is the only independent exploration and production (E&P) company operating in both onshore and offshore in Burma. MPRL is registered in Singapore but is controlled by Myint & Associates and is essentially managed and staffed by Burmese engineers and personnel.
Block A-6, located in the south of the Shwe gas field, is licensed to MPRL for exploration. On Monday the firm said in a statement it is "receiving a lot of interest from oil majors and investment groups", but did not reveal the size of the gas discovery.
The Shwe gas field was discovered in 2004 and has proven reserves of 200 billion cubic metres of gas. China is soon to start piping the gas over 1000 km from Kyaukpyu, Ramree Island to Kunming in the Yunnan province of China.