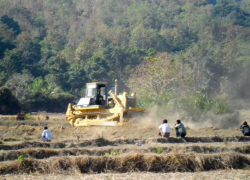 A Chinese-led consortium with a concession for oil exploration on Burma's Ramree Island has left hundreds of local islanders landless and unemployed and their environment befouled, a human rights group said Tuesday. Blocking Freedom, a report compiled by the environmental and human rights group Arakan Oil Watch, said a consortium led by the China National Offshore Oil Company Ltd (CNOOC Ltd) left behind such a trail of abuses and environmental contamination on Ramree Island that outraged locals attacked their facilities last year.
The report was the first to be released on Chinese onshore oil exploration activities in Ramree Island, Burma's largest island, in Arakan State, now called Rakhine.
The consortium, which included the Singapore-based Golden Aaron Pte Ltd, Burma's Asia World Company and Asia Guiding Star and two other state-owned Chinese oil-service companies, conducted onshore exploration for oil on Ramree Island between 2006-07.
The consortium reportedly confiscated 81 hectares, and offered the local owners 40,000 kyat (31 dollars) for their land regardless of the size of their plots, said Jockai Khaing, director of Arakan Oil Watch.
"An estimated 500 to 1,000 local oil drillers were put out business," said Jockai.
He said angry local residents attacked the CNOOC drilling site in Renandaung village in August 2007, and looted drilling equipment and supplies.
Police arrested two shop owners who purchased some of the stolen loot, and the investigation into the incident has forced 70 islanders to flee to Thailand and Malaysia, the report said.
Ramree is known to be rich in oil reserves, employing about 5,000 primitive drillers who have traditionally used the commodity to supplement their incomes from rice farming and fishing.
Hundreds of drillers have been put out of work by the consortium's activities in Renandaung and Kyaukpyu districts, according to Arakan Oil Watch.
"The consortium brought in 200 Chinese workers and 3,000 Burmese but only employed three Arakanese, and these were employed only because some Burmese workers ran away," said Jockai.
Besides depriving local residents of work and their lands, the CNOOC consortium has also polluted rice fields and rivers on the island, notching up a litany of abuses that could make a "worst practices" list for multinational corporations, the report said.
"Corporations and their supporting governments engaged in the oil and gas sector in Burma must ensure they follow international standards on local people's rights, and ensure environmental and revenue transparency," Jockai told a press conference in Bangkok.
The report on Ramree is even more disturbing given the predominance of Chinese oil firms in Burma's oil and gas industry.
Chinese firms currently have 16 oil and gas blocks in Burma and are now ranked as the largest investors in the sector.
US and European oil firms have in recent years been prevented from investing in Burma's petroleum sector by economic sanctions on the pariah regime, although France's Total and the US's Chevron still hold concessions won before the sanctions were imposed.
Burma earned an estimated 2.7 billion dollars in gas exports to Thailand last year, primarily from gas reserves partially operated by Total and Chevron. Natural gas accounts for almost 45 per cent of the country's export revenues.