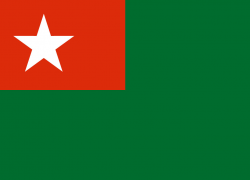 Some residents of the Arakan state's Ramree township have complained that local officials are declining to authorize paid-for roadway repairs unless youths in the area join the USDA, the Union Solidarity and Development Association.
About 7.5 million kyat has been raised by the local military division commander and minister of transportation Thein Swe to pay for repairs to the road that leads to Gon Yan Taung pagoda, according to one township resident.
The purpose of the repairs is to make life for pilgrims more comfortable, the resident said.
But about a month after the money was raised, the town's authorities announced they will not release the funds for repairs unless all the young people in the town join the USDA, the resident said.
But youth don't want to join the organisation because of its involvement in cracking down brutally on protestors, students and even monks in demonstrations last September.
Nobody wants to join the group, the resident said, because it has "never done anything good for the country".