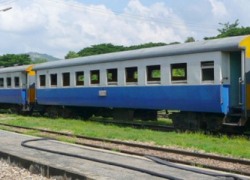 A memorandum of understanding between the Burmese Ministry of Rail Transport and the Chinese government for a railway between Kyaukpyu And Kunming has been allowed to expire, according to the Burmese government.
There has been no further request from China for another contract, according to manager of the ministry Myint Wai. The project will not go ahead because there were objections made by the people of Burma and various social organisations.
The memo signed in April 2011 specified that the railway project was to be implemented within three years, but as of April 2014 no work has been started for the project.
According to Myint Wai, the Union Minister has "no plan to re-implement this project" and the memo has expired, meaning the project will not be carried out because of the "public's desire".
Reports indicate, however, that China may be attempted to build a new motorway in Burma instead. Feasibility studies have been conducted by both sides, according to unconfirmed reports, but more negotiation is apparently necessary before construction can begin.
China Railway Engineering Corporation or CREC signed a memorandum of understanding in April 2011 with the Burmese government for the railroad construction project. The project was led for Myanmar by former railways minister Aung Min and retired former vice president Thiha Thura Tin Aung Myint Oo.
As much as $20 billion has been planned to be spent on the project. The costs for building and operating were to be covered by China, with the railroad to be transferred to Burmese ownership after 50 years.
Some social organisations criticised the project and highlighted many disadvantages. Protests were staged by the public against the project, and some political parties also announced in statements that they disapproved of the project.