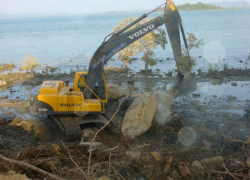 The construction companies that will build out the planned Kyaukpyu special economic zone (SEZ) in the Arakan state will be selected in December using an international bid process that is already underway, according to officials who are in charge.
The Kyaukpyu SEZ will include an industrial zone, a port and a residential area and is being led by CPG, a company based in Singapore. The zone is valued at $227 million, according to state media.
A total of three companies will be chosen in December to build the project that covers as many as 4,000 acres, according to Myint Thein, a project committee secretary. He spoke Thursday in Rangoon during an event.
The developers that are chosen will be expected to draw up detailed plans in the first two months of 2015, he said. The project will move forward once the plans are complete.
The government is hanging many hopes on this industrial zone because of its unique geographic location, according to deputy minister of finance Maung Maung Thein. He is also on the selection committee for the SEZ bidding process that will determine the construction companies.
The zone is located "between three giants", he said, referring to the location near China and India and with a deep sea port that will have the capability to handle commerce from ASEAN member states also.
The economic zone's location is also the beginning point of the Shwe Gas pipeline to China. The pipeline is being constructed by an international consortium led by China National Petroleum Corporation. The line extends from the zone to Yunnan, China and now carries natural gas from the Bay of Bengal. Later this year, crude oil is expected to be delivered through the pipeline.