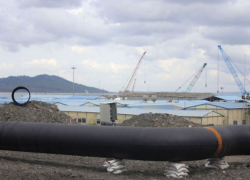 The Kyaukpyu Special Economic Zone faces a delay of 13 months, a deputy minister told a meeting on May 7, according to local reports.
Deputy Minister of Railway Transportation U Myint Thein, who is also the Kyaukpyu SEZ Implementing Committee secretary, announced the 13 month delay from the previously announced schedule at a meeting in the Arakan state with local elders, according to information provided to Mizzima by the Arakan National Party's Pyithu Hluttaw MP U Ba Shein.
The source said the meeting was also attended by U Soe Thein, the SEZ's deputy construction minister. The discussion, the source said, had benefits for both sides despite also revealing the delay.
The Kyaukpyu SEZ will include an industrial zone, residential housing estates and a deep-water port and covers about 11 miles in total.
According to a recent report in Mizzima Daily, a committee has been set up to evaluate bid proposals and award contracts and a project advisor has been put in place, but no developer has yet been chosen.
Because of a strong desire expressed by Kyaukpyu residents for job opportunities within the zone, the recently held Arakan National Conference demanded the establishment of vocational schools in the town to train citizens.