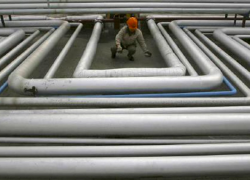 Potential investors in the Arakan State's Kyaukpyu Special Economic Zone are standing by in expectation of invitations to make their bids, but there is still no date set for invitation issuance as leaders are still working on the plan for developing the SEZ.
A working group made of consulting firm representatives has been selected to create the development plan and manage the bid process for the new Kyaukpyu SEZ, and this consortium is conducting analysis and a feasibility study now, according to U Aung Kyaw Than. The joint secretary of the committee in charge of bid evaluation and awarding contracts explained the current status to the Myanmar Times in a recent interview.
But committee member U Than Maung said that the overall plan is not yet complete. There is no indication of what kinds of companies may be interested in investing in the zone, which could cost up to $277 million to build.
U Pho Cho, executive director of a company created to invest in the zone, the Golden Land Development Public Company, said that once the plan is ready, his company can decide how to best fit in with international development companies.
A spokesperson for CPG Consulting, a Singapore consulting company for the SEZ, said that she could not release any information about the zone without approval from the bid committee.