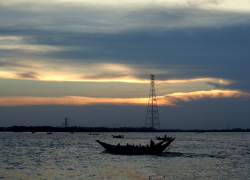 A capsized boat is responsible for the death of 17 people from the Kyaukpyu township in the Arakan state who drown in the on December 27, according to officials in the area.
The overloaded boat carried villagers from the Sinboat village who were on their way back from wood collecting in a mangrove forest. The boat turned over Friday afternoon in a creek located about two miles from Kyungyi, a Kyungyi police deputy-superintendent said.
That the loss of life isn't greater is astounding considering the boat carried 40 women and nine men, mostly from the Kyungyi village. All who drown in the incident were women.
The residents were returning around 4pm from the mangrove forest in a boat they had pooled together to rent. The passengers sat at the back while the wood was loaded in the middle and head of the boat. But that meant there was too much weight at the front, according to the police official, causing the small vessel to capsize close to a jetty about two miles from the village, leading to the deaths.
The state-run newspaper The Mirror said that the bodies of the victims were on the deck when boat was recovered the following morning.
Ba Shwe, the captain of the vessel, has been charged with criminal negligence and reckless navigating in connection with the incident.