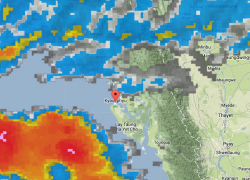 New weather radio stations will be built in Kyaukpyu, Mandalay and Yangon by 2017 with aid to Burma from the Japanese worth nearly $39 million, according to Burma's Meteorology and Hydrology Department (MHD).
The station in the Arakan state's Kyaukpyu area will be built first and will be started in December. Yangon gets a station second and Mandalay's comes later. The majority of the funds have already been received by Burma for the first phase, with the remaining $2 million to complete the second phase.
A memorandum of understanding between Japan and Burma signed October 25 formalises the deal. According to a spokesman for the MHD, the ball is already rolling and construction of the Kyaukpyu station is on track for starting in December. Japanese technicians will arrive to assist in February.
Officials say that construction of the Yangon station will start when the Kyaukpyu station is about half complete.