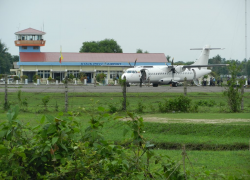 Local media in Burma continues to buzz with details of an airport to be built on Ramree Island, located in the western part of the Arakan State. The new facility and amenities that will accompany it are part of the Kyaukpyu Special Economic Zone (SEZ) Project.
The project is being handled by Nippon Koei, a Japanese company with experience managing similar projects successfully. The airport will be near Kyaukpyu on the northwestern corner of the Ramree Island, which is sometimes called Yanbye Island and faces the Bay of Bengal.
At the same time, Burma is planning additional development around the area. Bids have been opened for investment in the projects around the special economic zone, according to administrators. The many things being discussed are generating significant interest and excitement. They include residential and recreational facilities, an oil wharf and a highway bus terminal, among other possible projects.
Two plots are going out for bid if local inhabitants agree, and the process is planned to be completely transparent in an effort to prevent any hint or possibility of problems or discontentment. Local citizens will have first crack at the bids, then foreign investors will be considered, according to project officials.
Master plans for the Kyaukpyu SEZ are being developed by the zone administrators along with Japan's Nippon Koei Company. Things being considered include the cost and availability of electricity generation through gas turbines.