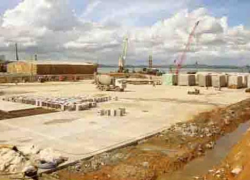 Reports of waste piling-up and the dynamiting of reefs to lay the gas pipelines have raised fears of the environmental impact at the Kyaukpyu deep-sea port project.
Kyaukpyu residents and workers have signed a petition complaining about the problem to both the local authorities and now to Hla Maung, the prime minister of Arakan State, about the waste disposal from the construction project. No action has yet been taken, according to the locals, who continue to live just metres from the dumping site for left-over food and toilet waste.
Human rights violations and work exploitation
Wong Aung, the coordinator of the Shwe Gas Movement, which is made up of individuals and groups who are concerned about the impact of the natural gas projects in Burma, said that about 100 workers from the Kyaukpyu port project who complained to local authorities about their working conditions, were subsequently dismissed from their jobs.
According to some reports, workers start their day at 6am and work until 6pm, but are only paid 1,500 – 2,500 kyat ($1.90 – $3 USD) a day, when official daily wages are fixed at 5,000 kyat ($6 USD).